"Air Control Essentials" Exclusive New Products!

Infrared Radiant Gas Heating Solutions for Business (Commercial/Industrial), Poultry, Construction, & Garage Applicatio

---
Infrared Radiant Gas Tube Heaters Highlights
Space-Ray offers tube heaters in natural or propane gas which range in capacity from 20,000 to 250,000 Btu/hr, giving us one of the most complete lines in the industry.

All Space-Ray tube heaters are designed for maximum radiant output and are CSA design certified. The products of combustion are pulled through the totally enclosed combustion chamber for increased radiant efficiency, more uniform tube temperature, and greater safety.

The 16 gauge aluminized steel emitter tube is calorized to produce a tube that is highly radiant absorptive on the interior and highly radiant emissive on the exterior, will not flake or peel, and is corrosion resistant. The unitized design allows lower installation costs, simpler re-arrangement within the facility, and less maintenance.

The heaters may be direct vented (individually or common vented) or indirect vented (unvented).
RSTP Series

Available in capacities of 150,000 and 175,000 Btu/hr, these compact heaters are completely factory assembled and may be mounted at various heights, horizontally or up to an angle of 90°. These powerful units incorporate many of the features standard for other Space-Ray tube heaters and are especially suited for higher mounting heights.

This series meets a wide range of comfort heating needs, indoors or outdoors.

These series, with more than 80 different configurations and in capacities from 40,000 to 250,000 Btu/hr, offer optimum flexibility in custom designing an infrared heating system.

The ETS series is available in multiple configurations (straight, L, Z, and expanded U-shape) with lengths from 15' to 80' long. For added versatility, 90° elbows, corner reflectors, and side reflectors are available for close area mounting near walls, doors, and corners.

The ETU series is available in seven different configurations and provides more uniform radiant heat energy distribution. The ETU series is ideal for high heat loss areas and spot heating.

A new compact size energy efficient infrared gas tube heater is now available for use in residential and light commercial buildings. The Space-Ray Cold Blocker industrial strength infrared heater is made especially for residential garages, workshops or virtually any small unheated space. Its compact size (only 9 feet 3 inches in overall length) allows placement in those small, hard to heat areas where longer infrared tube heaters previously could not be used.

The Space-Ray Cold Blocker is both versatile and reliable. Each unit is factory pre-assembled for easy, low cost installation and it's available in four sizes from 20,000-50,000 Btu/hr. All models are available in either natural or propane gas and have been design certified by CSA. Reliability and durability are underscored through the use of high quality materials like calorized (heat treated) aluminized steel tubes, maintenance free draft inducer assemblies and redundant step opening gas valves.

A line of 82 unitized straight tube heaters with more than 26 different configurations offers optimum flexibility in custom designing an infrared heating system. Ranging in capacity from 40,000 to 250,000 Btu/hr, these heaters are from 15' to 80' long and may be used in straight, L-shape, U-shape, or Z-shape configurations.

For added versatility, 90° elbows and corner reflectors are available on most of the units for close area mounting near walls, doors, or corners.The LTS series is design certified for up to 50' of fresh air inlet duct and up to 75' of horizontal sidewall venting. In addition, the LTS series is certified for a unique incline mount, which allows the heaters to be mounted following the contour of the roof for maximum space utilization.

This line of 21 unitized, low intensity u-tube heaters ranges in capacity from 40,000 to 250,000 Btu/hr and in total heater length of 17' to 27.5', providing optimum flexibility to meet exact industrial or commercial building heating requirements. The u-tube configuration of these heaters offers a large radiating surface for more uniform heat distribution at the floor level. These models are especially suited for lower mounting heights and may be mounted horizontally or up to an angle of 45°. In addition, the self-contained draft inducer can be rotated up to 90°, adding to the installation flexibility.

At Space-Ray, industrial comfort is a challenge we take seriously.

We have been manufacturing gas-fired infrared heating systems since 1958. The quality and performance of our heaters are based on over 45 years of field experience and exposure to industrial/commercial heating problems.

Our reputation is built upon a solid track record for providing highly radiant efficient, easy to install and high quality infrared heating equipment.

With Space-Ray's energy efficient gas infrared heaters, you can put the warmth of the sun anywhere the job calls for it.

These rugged industrial workhorses have many years of proven experience. And, there's no need for fans, ducts or electricity, and no moving parts. Just run a gas line to them and they are ready to go.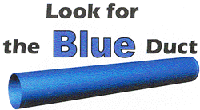 Engineered Plastic Duct Systems
Key Benefits

Easy to assemble
Light weight
Easy to cut
Affordable
Air tight
Modular
Durable
Non-corrosive
Mold resistant
Water resistant
UL approved
Created for underground applications
Available in standard sizes
Environmentally friendly
Made from recycled material
---